"Without our songs and stories, we are nothing." This one phrase tells you what you need to know about
SJ Tucker
. Multi-instrumentalist, road warrior, front woman, songwriter and rallying point; yes, she is all of these things. More than most, though, more than anything, she is a storyteller. She is the voice of lore at the campfire and the sharp laughter of modern myth, a vanguard of the Mythpunk movement with a gypsy Celtic folk rock sound that cannot be ignored. With one hand on her art and the other held out to you, she is songs and stories, community and wit.
A fascinating hybrid of geography and experience, SJ Tucker is a constant musical journeywoman born to the sticky, mean delta humidity of Dumas, Arkansas. In that same swirling, sweltering air, Tucker's musical education began at the age of 3 when her grandfather brought home an LP of The Beatles' Magical Mystery Tour and dropped the needle on her Fisher-Price toy record player. Bound to the The Beatles from that moment on, her love for music grew with church choir and piano in elementary school, guitar and songwriting in high school, and her first singer/songwriter performance at the age of 17.
With comparisons to greats like Joni Mitchell, Jeff Buckley, Ani Difranco and Tori Amos already a regular occurrence, Tucker stepped up to the mic while earning her Theater Arts degree from Lyon College and claimed her voice as frontwoman of a trio called
Skinny White Chick
, a nationally-known name under which she still performs today. That trio laid the groundwork for her signature Celtic faerie sound and gypsy minstrel life, but is just one of three musical collectives of which she is a part, with
Tricky Pixie
based in the Pacific Northwest and The Traveling Fates in the South and Midwest of the United States. It's not surprising, then, that she spends 90% of her year on the road, and has not stopped
touring
since 2004. A dynamic live performer known for her willingness to follow an evocative ballad with a tune about ninjas or pirates, Tucker is never in danger of taking herself too seriously. Serious talent, however, is a mainstay, with guitar, bodhran (Irish frame drum), and djembe (African drum) regularly in her hands during live shows. She is silly on stage, but not manic; calm, human, and gracious, with her genuine love of music courting and cajoling the audience from song to song.
A severe illness in 2008/2009 shoved SJ through an intense hospital stay and surgery, and left her to recover under the weight of massive medical bills. With SJ off the road and unable to generate income during her recovery, her manager and partner Kevin Wiley jumped to rally her fans and friends through various projects including a blogging campaign and CD sale. The most notable expression of this community support became the
Ravens in the Library
anthology, a collection of stories and illustrations donated by contributors such as world-renowned author Neil Gaiman. The combined proceeds from Ravens in the Library and the other efforts covered all of SJ's medical debt in a matter of days and allowed her to get back on the road to the people and music that she loves.
Her latest release in an astonishing ten-album discography is
Mischief
, released under her name, SJ Tucker, on July 16, 2010. Silly and reverent at the same time,
Mischief
was literally recorded across the country with friends and colleagues in various tour stops. The delay caused by her brief health issues combined with her
demanding tour schedule
made Mischief a longer creative process than any of her previous albums. The time and intensity of the circumstances, however, became a powerful tool, motivating Tucker to embrace the silly more than ever before, while allowing the music to carry the depth of the emotions and experiences that had occurred since her preceding release in 2008. With all these factors combined, Mischief became her best body of work to date.
No matter the form it takes, music is communication for
SJ Tucker
. It is how she tells stories, how she shares lore and myth, how she interacts with the world. Her sincerity and biting, rare talent are couched in her desire to connect and communicate with those who are listening. Indeed, without her songs and stories, she is nothing. With them, she is herself.
--
Phil Putnam
How do you describe your music to people?
I play Gypsy Celtic Folk Rock for Naughty Punk Faeries. I sing songs for brave girls and lost boys who aren't afraid of their own stories. I am a general in the Mythpunk army, Queen of the Bards, and a student of folklore.
Tell me about how you originally got into your craft.
I can't recall a time when there was no music in my house. My mother and uncles are all singers, and my late father was a music teacher who played a bit of guitar and a lot of trumpet. When I was six years old, I was in the cast of my first community theatre production, along with most of my family. We were always singing, and my parents made a point of surrounding me with classical music and everything else they could think of. Throughout my life, whether I've performed as an actress or a songwriter, my family has been 100% supportive. I started my first band in college (the original lineup of Skinny White Chick, which is a band name I use to this day), and upon graduating, moved to Memphis, Tennessee with the intent of learning about the music business and figuring out how to become a full-time performer. In March of 2004, I released my first full-length album, I left my various dayjobs behind, and I hit the road on my first tour. Seven years and a total of seven albums have gone by, and I haven't really stopped moving or singing since.
I travel and perform all year, nationwide as a solo artist and regionally with three separate bands: Tricky Pixie, The Traveling Fates, and Skinny White Chick.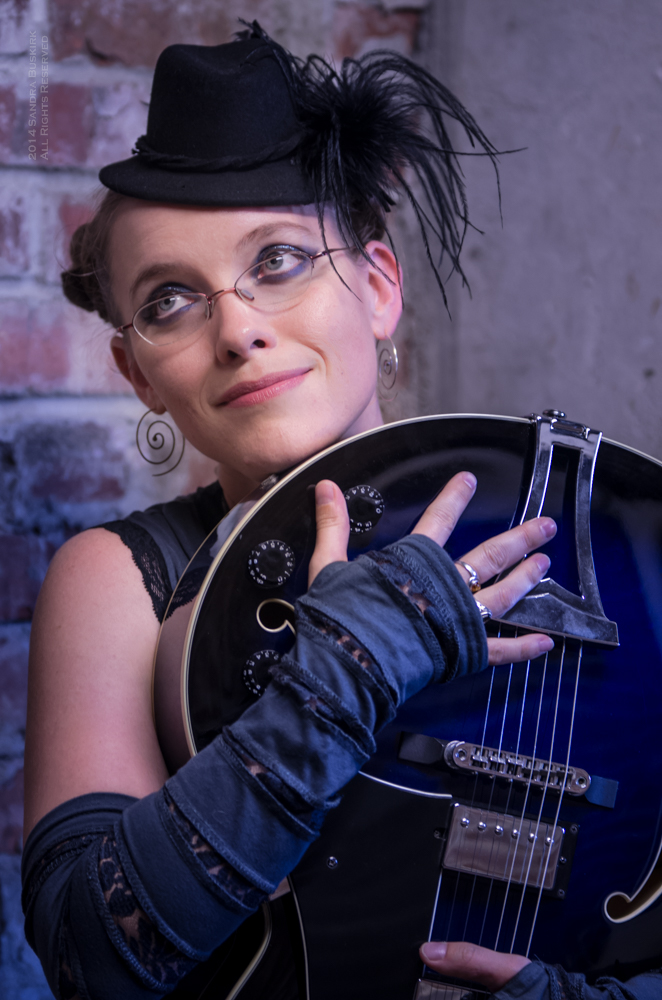 What is your favorite thing to do in the whole wide world?
Most of the time, with any one of the three bands I am part of, when we get together to rehearse or perform, it's difficult to stop. There's so much joy and so much healing to be had when we are able to do what we love best.
What is your biggest challenge when it comes to running your business?
Remembering that it is a business. Keeping in touch with podcasters and radio presenters as well as with fans and friends, while at the same time setting aside time to just be me. Schmoozing with people I don't really know. Keeping the balance, setting boundaries. Sometimes I don't have time to visit with everyone I'd like to talk with at my shows, and that hurts. But I have to take care of myself so that I can keep performing, and sometimes that means going home when I'd much rather hang out all night.
When you were a kid, what did you think you were going to be when you grew up?
I bounced back and forth between rock star, actress, writer, and artist. If you look at it slantwise, I think I'm managing to be all of those at once right now. I can remember conversations at school with other little girls in my class who said things like "I'm gonna grow up and marry a rock star." I would always think "but why wouldn't you want to BE the rock star?"
In what way has your community impacted your development as a musician?
I can't say enough about the amazing, wild, colorful community I get to be part of and how they have shaped me.
My first performances as a pro out on the road were all at Pagan festivals. After I was adopted by that community, more and more published authors started to let me know that they enjoyed my work. Over the past couple of years, I've been sharing shows and fanbases with several of those authors, and it's been truly wonderful working with and singing for the sorts of people that literary folk tend to attract. Along the same lines, I've been claimed by the SciFi Fandom community as well--the Filk community, the Steampunk community, and the convention-going community. The types of folks who go to Burning Man and to the faerie festivals on the east and west coasts also have my back, and I wouldn't trade them for the world. Lately, tribal belly dancers all over the globe have been cropping up on Facebook to tell me that they love my music. It just gets better and better. There's no way I could be among such vibrant, brilliant people and not be influenced by them.
It has always been about the people I sing to, for me. It's their stories I get to tell as well as my own. I warn people sometimes that if they become my friends, they can expect to hear themselves in a song one day. I've had people come to me and ask me to compose music for fire dancing and for weddings, for stories they have written and for people they've lost. In addition, they let me know that they love the music I've already got, and they always encourage me to keep touring, to keep writing, to keep going. It's when the tribe of souls you sing for come to you again and again to ask you for more that you know you're doing something right.
At the end of 2008, I had to have emergency surgery. I had no insurance and no way to cover hefty medical bills. It was this wild tribe of mine, this community of colorful people, that came to my rescue. They sold handcrafted clothing and books and artwork and music of their own; brownies and pies and dance lessons; they created an anthology of short stories, with contributions by Laurell K. Hamilton and Neil Gaiman to name a few, to help get me out of debt faster than I'd ever dreamed was possible. I truly owe them everything.
What other artists out there do you love?
My bandmates, first and foremost: Betsy Tinney,
Alexander James Adams
, Ginger, Doss, Bekah Kelso, Tony Fabris, and Michelle Dockrey.
Other favorites include Dreamtrybe, Darwin Prophet,
Ben Klein
,
Amy Steinberg
,
Heather Dale
,
The Gypsy Nomads
,
Kellianna
,
Sharon Knight
, Celia, Big Bad Gina,
Scott Huckabay
, Clint McCune,
Jesca Hoop
,
Zoe Keating
,
Azam Ali
, Trent Reznor, Ani Difranco, Tori Amos,
Magic Mama
, Maynard James Keenan,
Rushad Eggleston
, Iain Bellamy, The Beatles,
Faun
, Brother,
Beats Antique
, and
Seth Lakeman
.
What does your future hold?
As long as I can keep making music, being creative, and following my instincts, as opposed to being unhappy and working for someone else, there will be joy. I keep getting little signals that I'm doing exactly what I was put on this earth to do. I can only hope I'll continue to be so fortunate.