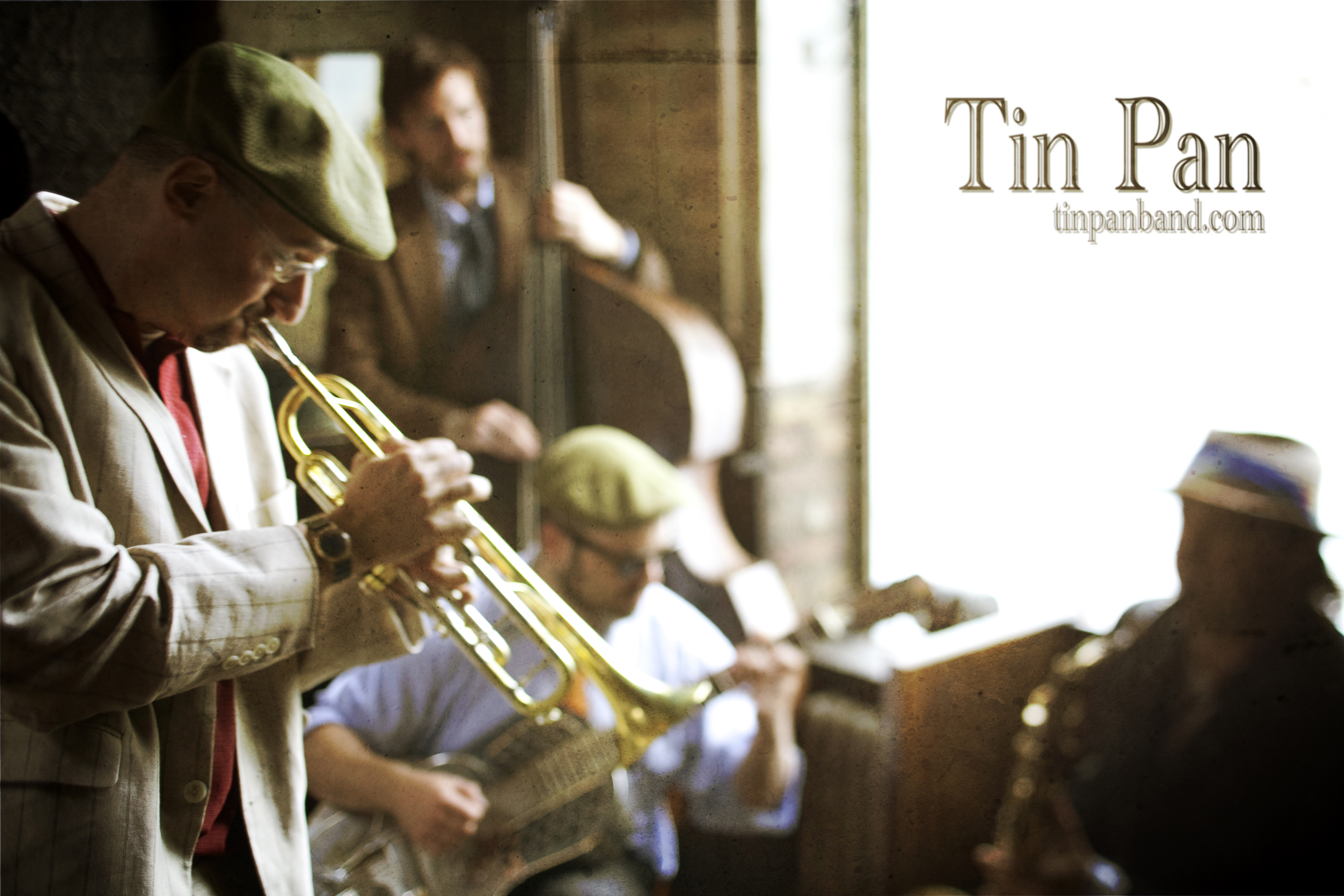 Tin Pan
connotes a world from the past – the most dominant and enlightened strains of American music of the early part of the 20th century – jazz, blues and American popular song. But it would be a mistake to say that Tin Pan is fixed in that past. Rather, it is music created to be enjoyed profoundly and joyously in the present. The band has created a rabid following by playing music that resonates powerfully because its intention is pure – to make people dance, smile and conjure with the spirit of music itself. On their new album,
Hound's Tooth
, the band has perfected their sonic vision – effortless, wondrous and festive.
Comprised of
Jesse Selengut
on trumpet, lead vocals and compositions, Clifton Hyde on guitar and hollerin', Stefan Zeniuk on reeds and boy soprano vocals, and Peter "Baby Hands" Maness on bass and some singin', Tin Pan evokes everything from Fats Waller and Louis Armstrong to Irving Berlin and Hoagy Carmichael. Founded in 2006 by Selengut, a long time New York based musician, and the curator of the Williamsburg Jazz Festival, the band sprung from what he calls, "a need for this kind of music." He elaborates, "As soon as I started playing this music, it just felt so easy and natural. Its simplicity demands that you be totally committed to it – there's no hiding behind theory or pose."
Finding players to fit his vision was challenging, but when Selengut met Mississippi native Clifton Hyde, who has played with Lou Reed, Debbie Harry, Blue Man Group and others, he knew he found the right man. "I auditioned about 25 different guitarists," Jesse recalls, "and right away I knew Clifton was perfect. He's experienced with blues and jazz but isn't constrained by excessive training. And he has an intuitive understanding of what dancers need." Stefan Zeniuk entered the picture through Clifton, bringing in a touch of the avant-garde to the proceedings. "I'm not even sure Stefan is that interested in jazz. He's just got incredible energy – (saxophonist)
Tim Berne
was his babysitter. I think that affected him for life," says Selengut with a laugh. Bassist Pete "Baby Hands" Maness was chosen because we discovered that he could slap the bass, spin the bass, and get every girl's phone number all in the same tune.
Describing themselves as a "street band," they often play in Central Park and in the New York City transit system. It's the embodiment of the band's belief that their music should be accessible – literally and figuratively. With two previous CD releases, Early Jazz and Americana and
Alice McNulty
, they sold a total of 6000 CDs in 2008, a phenomenal total for an completely unsigned band, and earned rave notices in the New York Times and Huffington Post, among others.
The singularity of their sound, coupled with the sheer pleasure of it, has earned the band a multitude of exposure, with some seemingly strange bedfellows. "We played a campaign event for (New York City) Mayor Bloomberg, we've played the Guggenheim…and we've played supporting for MC Hammer. It's sort of surreal," notes Jesse. Playing around 180 shows per year, mainly in New York, the band lives out their commitment to enliven through sharing this music.
On
Hound's Tooth
, the band has honed and distilled their music to its most profound essence. Produced by Clifton and Jesse, the recording process is simple: set up the microphones and play. From the opening notes of "
If The Sea Was Whiskey
," what you're hearing are master craftsman recreating Americana anew. Clifton's guitar meshes perfectly with the stand-up bass, and the horns are by turn mournful and celebratory, triumphant and heartbreaking – the sound of a newly found romance in a late night speakeasy, filled with foreboding passion. Jesse's vocals, fervent and impassioned, are uniquely his own – he has found a space that encompasses everything from Bessie Smith to Tom Waits.
The band is expanding their reach – they are beginning to tour nationally and have found a place in the enormous swing dancing community. Best Buy has taken
Hound's Tooth
into their stores for national distribution. And they'll be playing the influential venue Joe's Pub in June – another huge sign that this band has arrived. "We may have been together for three years already," declares Jesse, "but I feel like it's all just starting now. The band is playing beautifully. I've become more confident as a front man. We're really starting to grab people and have them in the palm of our hand." In the coming months, it seems assured that the legend of Tin Pan will only grow, as word of their excellence travels, but even more importantly, from the love with which they play.
How do you describe your music to people, Jesse?
Like Tom Waits and Ray Charles hanging out on Bourbon Street. American Roots Music.
Tell me about how you originally got into your craft.
In the fourth grade when I was eight or so a music fair came to our school and they presented all the normal band instruments. As a pragmatic youth I made some quick decisions: Trombone, too big, wouldn't want to carry that to school every day. Sax and clarinet and flute, too many buttons. Trumpet, three buttons - light weight. I'll take it.
I started to learn but eventually had to get braces and needed to learn again. When the braces eventually came off I had to learn a third time. Oy! So I definitely got to work on the fundamentals for a long time before I could actually play. Right away though, I began composing. Writing riffs and tunes to play on the horn.
My mom was a musician and she had a disco and R&B band when I was very young. She left our family (to go and live with the keyboard player!) when I was about 7 and I think that I always wanted to make music because a) I was always fascinated by it and b) I could see the fun that she was having with it and I wanted to be part of her world even though she had left. These are the thoughts of a pre-teen.
In more recent history, I could say that I got into my craft by trying many many different styles of music until I found one that felt easy and natural for me to play and that got a great response from anyone who happened to hear it.
I had been playing trumpet for years and years before I started singing and I only started to sing because I couldn't find a singer who could give me what I wanted. I finally got so frustrated that I figured I would just have to do it myself. I took a mess of lessons to learn how to project really loud and full and not hurt myself. I had been making music for so many years before becoming a singer that I found a huge reservoir of style and expression that I had never accessed directly. Perhaps I have always been trying to sing with my trumpet. When I began to realize how supportive everyone seemed to be about my singing, I grew more confident that I could really do it. It is so wonderful to discover a talent as an adult and have it bear fruit so readily!
What is your favorite thing to do in the whole wide world?
Performance. Connecting with audiences. That and being in love.
Just about everyday we are out in Central Park performing as street musicians. Ultimately, my favorite thing to do in the whole wide world is just to radiate the energy that I have. In order to do that, a feedback loop needs to be created where energy is getting returned to me. You start by diving in and giving all you have to the performance. People get magnetized by it and gather around. They start to return the energy with their presence, their attention, their gaze, their applause, their inspiration, their joy, and eventually their money. It has been a great privilege to conduct so much research and to have so many experiences in "turning people on" with the music that now it almost happens automatically. It's like plugging myself in to all the energy that is all around me. Sorry to be so cosmic about it all but that is how I see things.
Even when an audience is not present, like in the recording studio for example, you begin to trust that the energy will be returned to you. Recording is really very hard to do, to capture that energy. Focusing, feeling and trusting that that return of the energy is present still can be rewarding. Performing live is like getting paid to eat candy!
What is your biggest challenge when it comes to running your business?
The biggest challenge I am feeling right now is expanding our repertoire. Every year we have a seasonal kind of cycle. In the winter time we don't perform as much as it is too cold to be out in the park. Consequently, we do more practicing and writing. In the early spring we start working up a whole crop of new songs. Some don't work for the band but some do. When we start hitting the streets in April, the songs get more and more polished until they are audience tested through crazy amounts of repetition. By Summer, our high season, we are a well oiled machine with organically developed arrangements that really work hard to draw a crowd and keep people's attention. By the fall we are all jonesing for fresh material.
So the struggle right now is that we are performing so regularly that we don't have the time to work in anything new. The new stuff always sounds sloppy and rough compared to the tunes that we've played hundred of times.
This kind of goes hand in hand with being in a band that performs so damn much. As a quartet everything is pretty intimate. We spend hours and hours a day with each other. Stefan and I are literally breathing together for hours and hours a day. Baby Hands and Clifton are needing to agree on every quarter note every moment of every show.
Another big challenge is finding subs for when one of us can't make a gig. For example: I don't just need a guitarist. I need someone who can do what Clifton can do on the guitar and who knows our arrangements. Those folks are hard to find and hard to train when you find them.
When you were a kid, what did you think you were going to be when you grew up?
I have a tape recording of my brother, my mom, my grandma and myself from when I was five years old. My grandma asked my brother (age 7) what we wanted to be when he grew up. He said he wanted to be a fireman. Always wanting to be the exact opposite of my older brother I said that I wanted to be a snowman.
Speaking more deeply, I always thought I would be successful. It never really settled on a specific career choice. Eventually I found a path that makes me very happy where I can be fully myself and make a lot of other people happy too. The more I can do that, the more successful I feel.
In what way has your community impacted your development as a musician?
The impact of our community is huge in my development and as the band's development as a band. For starters, I have lived as a musician in New York City. Most of that time has been a struggle. The talent pool here is so deep and so dense that there are constant reminders that the only way to survive (literally survive) as an artist is to be a world class artist. There are so many great musicians all over the city. To be successful as a band in New York is a huge challenge. New York audiences have seen great talent for so long that only the strongest and deepest make an impact. There is a kind of weight and poise to that.
One of my musician friends has called it New York Gravity. Musicians from all over the world come to New York to give it their best shot because so much great music comes from here. A gravitational attraction for artists and musicians. Gravity comes from heaviness. There are so many heavy heavy players here. To find ourselves at the center of that is a constant process of digging and growing and building character that is equal to world class gravity.
Another import influence is Central Park itself. Learning to play outdoors and make a full sound as a band without any amplification has been quite a journey. My whole style of singing grows from the fact that I need to acoustically project to hundreds of people at a time without a microphone.
Finally, I was first exposed to this music as player by performing with some of the best musicians to come out of the New Orleans tradition. Especially after hurricane Katrina there were quite a few New Orleans people who came through New York for a few years and being a part of their community was very influential for me personally as a trumpet player. In New Orleans the trumpet is still top dog! More than the sax and even more than the guitar! Don't get me started on the tuba...
What other artists out there do you love?
Right now I am reading "
The Rest is Noise, Listening to the 20th Century
" by Alex Ross. It is an in depth survey of all the important composers from 1900 till now.
Stravinsky
rules! I love
Varèse
and
Charles Ives
. I really love
Shostakovitch's
string quartets. This is all fairly new to me and it's fun to see how my ear is growing into appropriating those sounds. Can't wait to hear how that comes out in our shows. It is already starting and I totally am into it!
I like so many different things. I was surprised to find out that I really like
Johnny Cash
. I really like
Willie Dixon
and all the
Chess Records
stuff. I like
Tom Waits
a lot but I only started listening to him because people tell me that I sound a little like him. I think
Frank Zappa
is a lot of fun. I was really into
Public Enemy
back in the day. I like
Art Blakey and the Jazz Messengers
. You said "out there" in your question. All these artists are still out there to me because I hear their music all the time on my iPod or in my home.
The Beatles
,
Led Zeppelin
. My friends who play: Jeff Morris, Bob King, Gordon Webster, Stefan Zeniuk's band
Coconino
.
What does your future hold?
We [played] Sunday 9/12 on the Center Court at Arthur Ashe Stadium right before the final match of the US Open...in front of 23,000 people! So let's hope more stadium shows! More recordings, more performances. Continuing to grow as a singer and as an entertainer.
More philosophically, I seem to be currently engaged in being happy by making more and more people more and more happy. I believe this is how the universe is run. I see no reason why this process won't keep developing and flourishing.
Click here to buy the music featured on Such Cool Stuff!