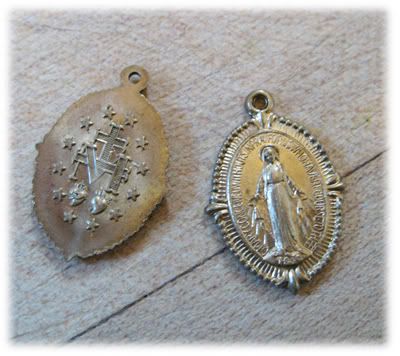 Gilding the Lily Vintage
specializes in vintage components and found items to inspire and inform the work of artisans and craftspersons alike. They believe the incorporation of vintage and one of a kind elements adds distinction and a unique viewpoint to jewelry, paper and fiber arts. They also have a brick and mortar store in Fullerton, California that is located in a 1920s Spanish Revival hotel, and is filled to the rafters with ribbons, trims, jewelry findings, millinery flowers and more. The web store represents just a fraction of what they stock at Gilding the Lily, and the inventory grows and changes all the time. They also have classes with artists at the store, and open studio nights where women gather to share and celebrate the artist in us all.
We were pleased to have shopkeeper Nancy Jamar agree to an interview with us recently.
Tell me about how you originally got interested in vintage goods.
I have always loved vintage things, and I am the "keeper of the flame" in my family, holding on to many items handed down, and packing them away for my daughter and her children. I started down this path, however, at a local flea market where I purchased two 1930s Easter bonnets from a seller. Though he encouraged me to buy more hats, I told him I really only liked the old ones. He replied that he had a warehouse in Long Beach with a thousand vintage hats. That was definitely the first step down the slippery slope for me.
I did purchase hundreds of hats from him, and subsequently started hunting down vintage ribbon, flowers and veiling to refurbish them. That search has led me to other things, such as textiles, papers, clothing, jewelry, accessories, and now our store specialty, vintage jewelry findings, chain and components. The arts are so demonstrably heading in mixed media directions that it has made my offering quite a bit broader than originally anticipated.
What is your favorite thing to do in the whole wide world?
Junking for old components and jewelry, and designing my own line of jewelry. I'm very process and solution based when I am both on the hunt and designing, so the wheels start turning as soon as I see a good candidate, whether it is an unused vintage finding, a length of chain, or an old piece of jewelry I want to repurpose.
What is your biggest challenge when it comes to running your shop?
Riding herd on a million tiny things! It has been an enormous challenge for me to find ways to tag, merchandise and organize all the things I sell. For instance, there is one cabinet as tall as I am that holds trays and trays of antique and vintage buttons. They've proliferated around the shop and live in jars and dishes. Two antique cases hold trays of findings, filigrees, cabochons, pearls, and stones. Most of the chain hangs in hanks on an antique door, and there are trays of one of a kind items for focals. New stock comes in every week from back east, so it's a challenge to keep up. And, as you might suspect, I am always looking for something I just saw somewhere, but can't quite lay a hand on...
What item in your shop would you most like to receive as a gift if someone were shopping for you?
I would love to receive "
Marie Antoinette's Pearls
," a bracelet I designed last year and have produced only a few of, due to the limited nature of the components I use in it...rare book chain, old Miriam Haskell baroque pearls, vintage rhinestone drops, and vintage findings and filigrees. Either that, or I would be happy to have one of my rings, either the silver filigree "
French Bee Ring
," or the "
L'Opera Ring with Tourmalines
," both crafted from 1930s French souvenir bracelets. I've been designing a series of these rings for three years now, and love them.
When you were a kid, what did you think you were going to be when you grew up?
Well, I had aspirations to be an artist, as I painted and drew incessantly, but I did not have any grand illusions as to the measure of my talent. I also play piano, but know in my heart I do not have talent nor mettle to be a concert pianist. But what I have always enjoyed is creating something, whether simple or grand, making pesto or a necklace. And I have always had a very entrepreneurial spirit, and directed my creative energies into productive channels since I was very young, selling handmade and embroidered clothing, paintings and murals, and other diversions.
Professionally, I have been a graphic designer for the past three decades, and have owned a production company, and then acted as a partner in my husband's design firm,
Alain Jamar Design
. He's a great sounding board for me in my endeavors, and his European roots let him bring a slightly different perspective to the table.
What other shops out there do you love?
Offline, I love
Paris to the Moon
in Costa Mesa, California, and another store quite near me,
Le Potager
,
owned by a friend, John Reed. Online, there is so much to look at...my bookmarks are quite out of hand. I love
The Ribboned Crown
,
Edgar and Edgar
,
French Garden House
,
Dream Create Share
,
and the jewelry and art of friends and artists who shop and teach at Gilding the Lily: Deryn Mentock, Ruth Rae, Kelly Snelling, Amy Hanna, Tami Hichman, Kristen Robinson, Christine Rose Elle, Cindy Forrester, and so many more. What I admire most in each of these people is their ability to share their artistic visions and talent and still keep the art they create distinct and beautiful. The blogs of these women are chronicles of creativity that I never tire of reading, and their friendship over the past year has truly enriched my life.
What does your future hold?
More of the same I hope, and more time to devote to jewelry design. I currently work in both my business and our graphic design firm, but hope to dedicate more time to "Lily" this next year. The economy has certainly got our attention, but I hope the importance of what we do will bring us through. The rewards are many, and when the currency is oft times friendship and shared creativity, you come away feeling wealthy.
Be sure to stop by
Gilding the Lily Vintage
to see what wonderful finds they have today or go see the blog at
gildingthelilyvintage.blogspot.com
. Remember that the shop works with many designers and artisans, providing wholesale pricing and discounts for them, as well as a sliding scale discount for our customers who purchase in volume. They also take many special requests through the web site, so don't be afraid to ask if you don't see what you need!
As for me, I will be taking a break from the interview series for a few days to enjoy the holidays. The series will start back up again soon so keep checking back or subscribe to our RSS feed so that you can stay in the loop with all that is going on here at Such Cool Stuff!