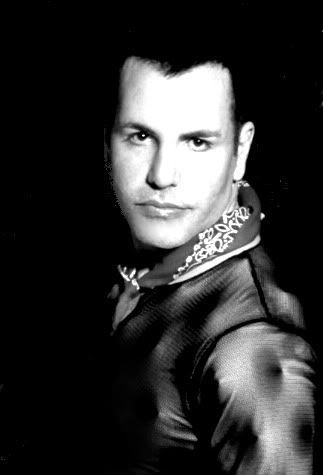 You've never truly understood the phrase larger than life until you've met
Michael Lee
. The San Antonio-born, Houston-based actor, Emmy-nominated television producer, singer, songwriter, director, ghost hunter and alleged vampire walks the walk in a whirl of outrageous clothes, chutzpah and a mischievous mirth not seen since the heyday of hair metal. Enamored with the glamour of big-time rock n roll, Lee lives the dream by staying true to himself, a throwback to the days when people made rock n roll music that they themselves liked instead of writing for a myopic commercial niche.
Michael Lee fell in love with music early on, picking up a guitar at the age of eleven in imitation of the teen idols of the day. Initially finding the guitar challenging, Lee switched temporarily to the bass guitar until the flash of the six-string drew him back. By the age of 14 Lee was in the studio recording his first song. At the same time, Lee was bitten by the acting bug, appearing in his first movie – an independent western – at the age of eleven. Lee went on to study acting at New York University's Tisch School of the Arts and The Royal Academy of Dramatic Art in London. Lee lost touch with his guitar through his college years, in the process turning his prodigious artistic tendencies toward television production. Lee's television credits include E! True Hollywood Story, NASCAR interviews, Super Bowl post-game wrap ups and in the process... two EMMY nominations.
Somewhere in the process of becoming a behind-the-scenes staple in television, Lee picked up his guitar again and began honing his performance skills at the head of one of Texas' premier cover bands, The Lost Boys. Lee electrified crowds with a persona that channeled the energy and intensity of a young Billy Idol and a pop/rock sensibility that draws from such disparate influences as Judas Priest, the Goo Goo Dolls, Styx, The Cure, Van Halen, The Foo Fighters and Muse. In listening to Lee's music it becomes clear that his song-writing style is frenetic. Not one to stand of ceremony, Lee strives to make each song he writes thoroughly distinct from anything he's written before. It is this passion and drive, combined with the willingness to say and do almost anything that make Lee such an engaging presence both on stage and off.
Listen to Michael Lee's lyrics and in turns you'll be moved, amazed and amused. Lee's tongue-in-cheek approach may remind you of the Barenaked Ladies, but as he's moved away from singing others songs to playing his own, Lee's musical style has developed into an art-pop blend that takes the driving energy of the Foo Fighters and the post-pop sensibilities of Muse. Lee also maintains a distinctive back story for nearly every song he's written, the ephemera from a television career where creative ideas flow from a structure development process that's equal parts planning, inspiration and a little bit of luck.
Michael Lee's debut EP
Hold On Till Heaven
is Lee's first foray into original music, and he has a great supporting cast: John "Rabbit" Bundrick on keyboards (The Who, Pete Townsend, Roger Waters, Mick Jagger, The Rocky Horror Picture Show); Steve Bundrick handled production and added drum tracks and producer/engineer Kirt Shearer (Cake) handled the mastering. Lee plays guitar, bass and sings on the album, while exploring issues such as faith ("Believe"), vampires ("Lost In A Touch") and the evil stench of Paparazzi ("Mind Your Own Business") in wonderfully post-pop rock arrangements. Hold On Till Heaven is just an appetizer for what's to come however, as the project took on a life of its own while Lee develops a yet-to-be-released full length album entitled No More Fairytales.
When you see Michael Lee on stage he looks like a throwback to another era of rock n roll. Part rebel; part glam rock demigod, Lee swaggers onto the stage with his Flying-V guitar and takes it for his own in the name of rock n roll. Lee writes music that pleases him, and in the process he reminds us all what rock n roll was meant to be. Michael Lee hopes to inspire a new rock revolution, one fan at a time, infusing modern elements into classic rock forms to create not just songs but moments. Be a part of the moment with Michael Lee.
How do you describe your music to people?
My music is a new sound for a new decade...it's a little bit of Bowie, a little bit of Beck, a little bit of MUSE, and a lot of Foo Fighters! It's best felt when turned up LOUD!
Tell me about how you originally got into your craft.
I first started with guitar at age 11 mimicking other teen idols I saw, and like most guys I picked up a guitar to pick up chicks. But I thought guitar was hard, and since the bass was only four strings, it must be easier. So then I started to play bass, but I finally realized guitar was so much flashier and offered more musical options so I went back to it and became more disciplined. More flash=more chicks, that was my favorite math equation in high school. Then after I got an amp that went up to "11," I was hooked!
I have broken out into song since I was a toddler, of course, but style points have taken years to develop. As a songwriter, I actually recorded my first song at age 14 but with a female vocalist. For some reason, I've been in a lot of female-fronted groups since high school days...and even today with my cover act, The Lost Boys. One way or another, I'll be a lost boy forever...
What is your favorite thing to do in the whole wide world?
I love to perform! I was cast as a Christmas clown for a school play when I was six-years-old, and I've been most at home on the stage ever since. There's nothing more thrilling than performing for a screaming crowd. It's the ultimate rush! (my second favorite thing to do is watch sports...I am a certified sports junkie)
What is your biggest challenge when it comes to running your business?
The biggest challenge is having to wear so many hats when just one is all I really want. (I do cover Men Without Hats for a reason!) In today's DIY music business, you have to be a marketing-social media-distribution-managerial specialist, rather than just an artist who wants to write compelling music. I'm still a believer, though, that conquering the music part is the most important part...and the artist in me wins out over the business side all the time.
When you were a kid, what did you think you were going to be when you grew up?
I actually wanted to be an astronaut when I grew up. I must have been influenced by some bad neighborhood kids; being a rock star is so much more demanding...and rewarding. Though I still fly to the moon...every night I take the stage!
In what way has your community impacted your development as a musician?
Growing up in the Heavy Metal Capitol of the World (yes, that's what San Antonio was known as when I was a kid) had a tremendous influence on me. The music back then wasn't so much the noise metal or "black metal" that some think of when you refer to heavy metal today; it was much more melodic, glam rock. Even though I have sought ways to fuse today's more popular indie sound into some of my songs, I'm still just a hard rocker at heart. eg. Several years back I was working on a television set in Nashville where I had to tune this old cheap guitar the performer had and was about to play. I busted out into Ozzy's "Crazy Train" and shocked the crowd of die-hard Country fans who were there to see this new rising star. Who was it? None other than today's superstar Brad Paisley! Old habits die hard!
What other artists out there do you love?
I love quite a wide spectrum of music, so my tastes are quite eclectic...that's why I can be listening to Judas Priest and the Beatles and Roy Orbison and Colbie Caillat all in one sitting. (hey, that takes some doing, too!) I'd have to say my current favorites include The Killers, The Bravery, Smashing Pumpkins, All-American Rejects and Neon Trees.
What does your future hold?
Well, as Merlin the magician said in the film, Excalibur, "You never know what the future holds...until it is past, and then of course it is too late." My psychic powers confirm this to me everyday. But I would say that we will continue to write exciting new music that will dazzle and overwhelm the masses...thus leading to worldwide domination. Then when our revolution is complete, we will look to solving problems like world peace and hunger, and Justin Bieber. In that sense, I'd say the future is so bright...I gotta wear purple shades!