Julie King
of
The Art of Jewelskings
creates digital art and photo manipulations inspired by the music she loves.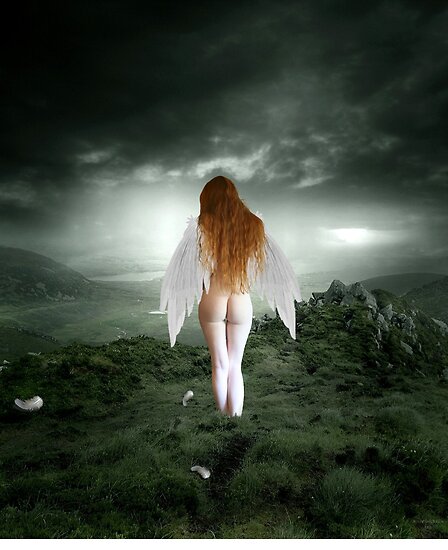 Tell me about your art, Julie.
Most of my Digital art I created while listening to the song in their titles! I'm a big music lover of all kinds! They inspire me! As you can tell I have a wide range of taste! But I find Rock works best for my type of art! I like country and jazz and classical.
I've had several scholarships to the Des Moines art center. I've made some jewelry, I paint, draw, but I must say digital work is less of a mess and doesn't take up much room. My life motto is Always Thinking. I've loved art since the day I picked up a pencil and brush.
How did you originally get into your craft.
Loved art at a very young age. Presents that I always requested were paints pencils and your basic art supplies. An uncle on my father's side and my mother [had] artistic skills. I remember around 8 or 9 the TV Guides had these ads that if you could draw the picture they displayed you may be an artist. I would draw every one of them. Then in 6th grade my art teacher selected me as the person to receive the only scholarship to our city's Art center...I received that honor 3 years in a row. High School I had also received 2 gold keys from Hallmark: one drawing was selected as one of the top 3 pieces in the Iowa school system. The other gold key was for a brass box ring I created. I've done odd jobs here and there for friends, work, and relatives. Then we got a computer for an artist with a limited budget; what an amazing tool. I'm self taught.
What is your favorite thing to do in the whole wide world?
Wow! Hard question. Sitting in a cozy room with my music playing and all the time in the world to create. I get inspiration from songs. My work doesn't always match the words; it's more the feeling it brings out in my art. Fishing would be my other love.
What is your biggest challenge when it comes to running your business?
Having the time to make my art. I have 2 other jobs; art is my 3rd but would love it to be my only job.
When you were a kid, what did you think you were going to be when you grew up?
Gee so many things. Movie star, artist, fashion designer, or vet.
What item in your collection would you like to receive as a gift if someone were shopping for you?
I'm Sailing Away
What other artists out there do you love?
These are a few of my current favorites.
First my dear friend
Martin Muir
Randy Monteith
Scott Black
Alexander Butler
and
AnnMei
Just to name a few.
What does your future hold?
I have no clue. But I will be creating as long as I breathe.