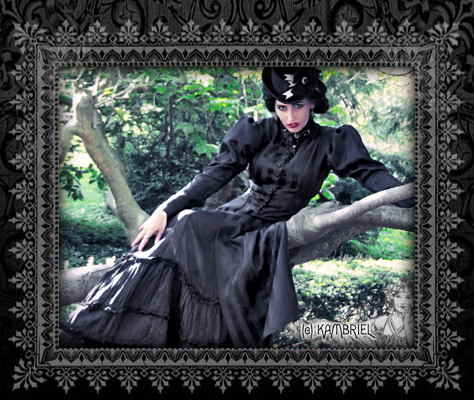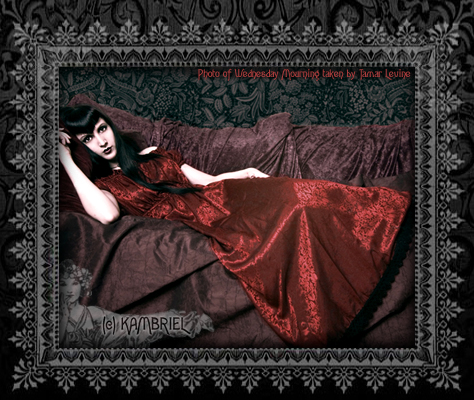 Kambriel
creates "Darkly Elegant Designs for Femme Fatales and Decadent Gentlemen." Her work was featured in the 2008-2009
Gothic: Dark Glamour
exhibit curated by Dr. Valerie Steele at the
Museum at FIT
in New York City. Her custom designs have been seen on musicians Monica Richards and William Faith of
Faith And The Muse
,
MacHine In The Garden
. Amanda Palmer of
The Dresden Dolls
and her Siamese twin-themed side project with Jason Webley entitled Evelyn Evelyn,
Mirabilis
,
Mors Syphilitica
, Kara of
Reliquary
,
Mephisto Walz
, and the comedian
Margaret Cho
.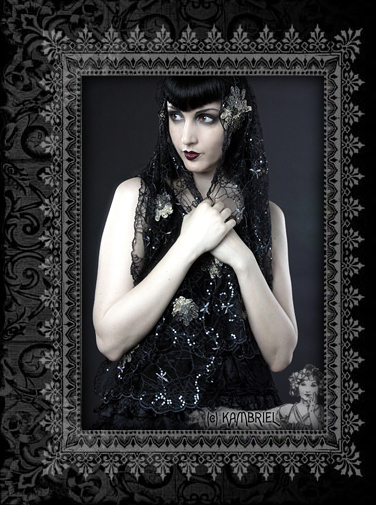 Tell me about how you originally got into your craft.
It seemed all the other design offerings were focusing on the harshness of light, and I wanted to focus on the delicacy of shadows.
What is your favorite thing to do in the whole wide world?
Bringing inspirations and dreams into the world of reality.
What is your biggest challenge when it comes to running your business?
Keeping up with my own seemingly infinite list of ever-evolving ideas...
What item in your shop would you most like to receive as a gift if someone were shopping for you?
I suppose it would depend on the occasion!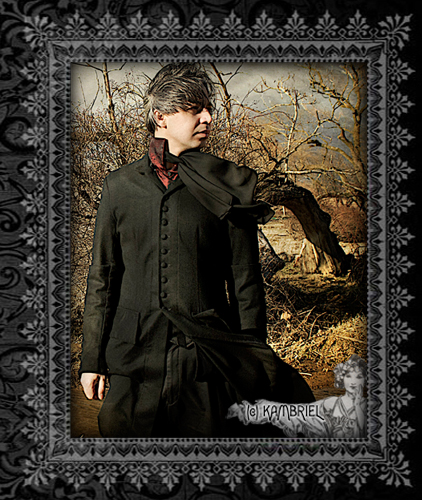 Perhaps a surprise off the
One of a Kind page
, since there are so many unique treats there to choose from
[Check the bottom of this article for an exclusive coupon code for One of a Kind Items -ED.]
The
Isabella Coatdress
has such classic, flattering lines, and is very versatile.
For pure fun, there's the
Cabaret Bustle Jacket and Scylla Skirt
.
Or if it were a special, more formal occasion, and someone wanted to go totally over the top, I'd have to say the
Moire Midnight Ensemble
.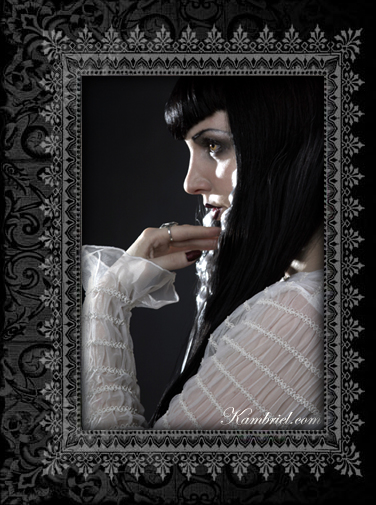 If something warm, comforting and cozy was called for, I'd love a custom made
Patchwork Coverlet
.
And if I were shopping for a man, I'd probably go with either a limited edition red/black jacquard
Bastian Shirt
, or a
Potionmaster Jacket
.
When you were a kid, what did you think you were going to be when you grew up?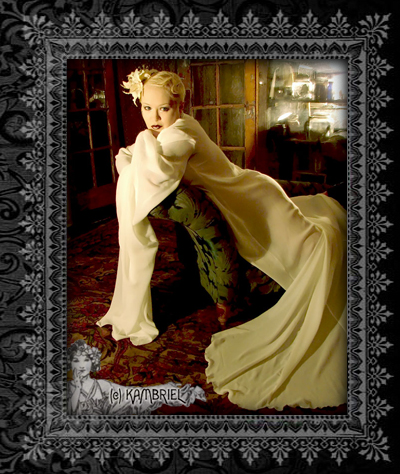 There were so many wildly varied things I wanted to be, which concerned me quite a bit since I was always under the impression that there would come be a time when I'd have to choose just one! Luckily, I'm able to combine many of my early fascinations within the world of design, whether they've ended up serving as personal inspirations, ideas for photo locations/themes, choreography for fashion shows, etc...
What other shops or artists out there do you love?
Coilhouse
: A "love letter to alternative culture".
Visioluxus
: Elisa's photography brings glimpses of a dreamworld in which you'd all too happily reside.
Wednesday Mourning
: A model that is not only both exquisitely lovely and ethereal, but is also incredibly clever and a genuinely kind soul.
What does your future hold?
I shall have to brew a cup of tea and see what the leaves say!
See more at
www.kambriel.com
and
kambriel.livejournal.com
. She has kindly offered
20% off
any items on the
One of a Kind page
until December 20th, 2009, for readers of Such Cool Stuff. Just be sure to include the code "SCS" in the comments/special measurements section of the online order form to receive the discount. Thanks, Kambriel!