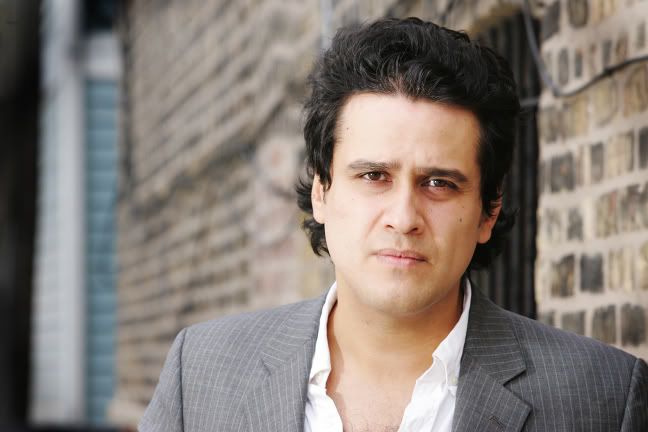 Singer-songwriter
Adam Ashbach
is no stranger to the Rock and Roll lifestyle. He played with
Musical Outfits
for almost seven years as the Chicago rock band sold out some of the city's biggest venues, played Lollapalooza, were scouted by major labels and traveled to Greece, where they enjoyed heavy radio airplay and performed on a popular television show.
The band even boasted an impressive grassroots following that shared their desire for honest music, but things got complicated. After numerous breakups, fights over the same girl and a barroom brawl that left Ashbach with a broken jaw, he had had enough.
After retreating from music and Chicago for nearly two years, Adam's love for melody and songwriting called him home to record his first solo effort, the sweet and heartfelt EP
Puzzle Pieces
, at CRC and Tim Sandusky's Studio Ballistico.
With the help of old band mates Jason Angelilli and Joe Wagner, Adam worked up some direct yet vulnerable pop songs and is ready to give the rock and roller coaster one more shot.
How do you describe your music to people?
I like to say "polka metal" to see how people react, and if they get the joke I tell them it's really pop music. If they don't get the joke, I let them continue to believe its polka metal. I write songs that I hope will make people feel genuine emotions and escape a little.
Tell me about how you originally got into your craft.
I always wanted to play guitar. And I've loved singing since I was 3 or 4. After my dad took my guitar away after my first lesson (at age 11 because of bad grades), I didn't play again until I was 17. All my friends were leaving for college and partying was getting old. I felt I needed an outlet and [music] was a natural fit. I started playing everyday. I couldn't stop!
What is your favorite thing to do in the whole wide world?
My favorite thing to do...well, it's hard to pick a favorite band or Beatles song, but one of my faves is to just sleep in and then lounge all day and listen to old records. That and maybe swim in a cold lake on a hot day with friends. Unfortunately, I can't do that as much as I would like.
What is your biggest challenge when it comes to running your business?
My biggest challenge is probably not being able to stay current with modern marketing. As soon as I start doing the "thing" you have to be doing or involved with it seems that there is already something new I need to be doing. And I'm like "I just found out about that other thing!" It's a challenge to not just play music. Musicians and songwriters now have to be business savvy as well as good at music. Jimi Hendrix was just like check this out...I can play guitar so good it'll make you hurt. He wasn't saying "Hey, go to my
Myspace
and my
Facebook
page and my
Twitter
page.
When you were a kid, what did you think you were going to be when you grew up?
I used to tell my parents I wanted to be a marine biologist. We had a lot of fish when I was a kid. My dad had tanks with crazy saltwater fish and even stingrays that he would feed by hand. But I would daydream in the car (while listening to music) that I was on stage singing. But I guess that never seemed like a reality, just more of a fantasy. I also used to want to be Spider-Man.
In what way has your community impacted your development as a musician?
I grew up in Chi-Town, so [community impact] is big. We all come from a working class mentality, so you gotta work hard. I lived in Brooklyn for almost 2 years and that definitely affected me. There are so many good bands and musicians that it makes you want to work that much harder at being good. But now I live in Logan Square (Chicago) and it's such a diverse neighborhood and it really has helped me say I can do the music I want to do, regardless. In NYC, I sometimes felt like I had to be hip and there was no room for sappy or lovey-dovey. But I grew up on Bob Marley and The Beatles and I want to say "Love" and not feel ashamed because it's not cool. So I think coming back to the Chi has made me more honest.
What other artists out there do you love?
I love Ryan Adams. I think he's the bees knees. I mean, I can't say enough about him as an artist and a songwriter. Sam Roberts from Canada--he is a rock star over there, selling out for thousands at a show and here he plays [small venues like] Subterranean and Beat Kitchen. I also like Kings of Leon. The song
Milk
off their second album is what got me into them. There are a ton of bands, really--way too many to list. There are some Chicago bands that I really dig--California Wives and
Jonny Rumble
.
What does your future hold?
I want to be happy! It sounds corny but that's all I'm really hoping for. I have spent too much time trying to please too many other people. I hope that the future holds happiness. And, of course, I'm always optimistic that music will be part of that. I would love to be able to play shows across the country and the world. But right now I'm just trying to play a show at the Double Door in Chicago.