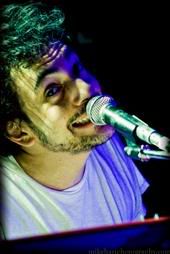 Chicago's
Robot Lounge
strikes a fine balance between the ironic and the heart-felt, given its impeccable insight into the human condition. Founding member Kevan Eftekhari writes songs that incorporate elements of jazz, pop, and new wave, while providing lyrics that touch on bad days, wasted time, deranged love and spectacular nightmares. RL has amassed an energetic live following with performances that border on the fervor of an old-time tent revival.
How do you describe your music to people, Kevin?
Gonzo new wave piano pop
Tell me about how you originally got into your craft.
When I was 8 years old, my two older sisters wanted to learn how to play the piano. So my mother signed us all up for lessons. Since I was the youngest, I was forced to do whatever activities my sisters did--swimming lessons, tennis lessons, art classes, etc. I hated every second of it, but my mother finally let me quit piano lessons when I was 12 years old.
Just a few months after quitting piano, I rediscovered music as an emotional heightener, and I became obsessed with the idea of creating my own. After much begging and pleading from me, my mother finally bought me a used acoustic guitar. Before I could even really play anyone else's music, I started writing my own songs. I eventually found my way back to the piano and have used it as my primary tool [ever since].
To this day, songwriting has become such a huge part of my life that I cannot even imagine myself without it. It's my only passion; my one form of expression and my entire identity.
What is your favorite thing to do in the whole wide world?
Judging from my answer to the last question, it would be easy to say that writing songs is my favorite thing to do. But this is not true. Writing songs is an emotional process that can be exhausting. It can be frustrating and tedious. It involves problem-solving and deep isolation. It is a force of nature that I have no choice but to acknowledge.
The reward is the finished product. Therefore, I would have to say that my favorite thing to do in the whole world is perform live. There is no experience more transcendent than playing a finished song for people who are eager to listen.
My other favorite thing to do is record new songs in a studio environment. I like to shut myself off from the rest of the world and take my time in allowing the song to grow sonically.
What is your biggest challenge when it comes to running your business?
So far, the biggest challenge that I have run into consistently for the past 10 years is keeping a steady line-up of musicians. Circumstances arise, and people move on with their lives. Whether it be someone moving away, finding other interests, lacking time to devote or simply growing out of the childish idea of becoming a serious musician, I have played with dozens of guitarists, drummers and bass players through the years.
This is by far the hardest and most frustrating part of bringing my music to the public. After playing and recording with a group musicians, all I want to do is keep them and continue playing as band. I want us to grow as a group and experiment with new sounds based on the experience that we have had in the past. Instead, I frequently find myself having to scramble for new musicians to cover shows that I already have booked and having to re-teach the same old songs to the new people over and over again. This is by far the most irritating and discouraging thing that happens to me. It often feels like a giant boot stomps on me, and when I finally rebuild myself to what I once was, the boot drops again.
When you were a kid, what did you think you were going to be when you grew up?
As a child, I was always interested in drawing and making stories out of pictures. I remember always wanting to make animated cartoons of my own characters and storylines. Certain life circumstances and growing pains eventually lead me to find emotional solace in music. I was about 13 or 14 when I said, "I want to write songs for the rest of my life." I guess that was the day I "grew up" because that one thought has never been challenged since then.
In what way has your community impacted your development as a musician?
There's an understanding among musicians in Chicago that we are all doing this with a mutual passion for music that we all share, and not the desire to become big rich asshole rockstars. Chicago is a cold, hard city that leaves no room for taking a break or sitting out to catch your breath. Everyone who lives here knows there is no music industry here. There are no bigshot record executives here. If we even gave a shit about those kind of people, we'd move to LA or New York, but we don't. We stay here, grinding our teeth and warming our blood with our own raw drive. This understanding makes for a good community of musicians, press and venues. Everyone knows it's rough, so everyone does what they can to help each other.
What other artists out there do you love?
Here are 25 artists in my iPod--one for each letter of the alphabet (no "X"--sorry)...
Archie Bell And The Drells
,
Bob Dylan
,
CCR
,
Daft Punk
,
Elton John
,
Fats Waller
,
Gipsy Kings
,
Hall & Oats
,
Incubus
,
John Lennon
,
Kanye West
,
Leonard Cohen
,
Michael Jackson
,
Nina Simone
,
Otis Redding
,
Paul Simon
,
Queen
,
Red Hot Chili Peppers
,
Sam Cooke
,
Talking Heads
,
U2
,
Van Morrison
,
Weezer
,
Yeah Yeah Yeahs
,
The Zombies
...
What does your future hold?
I can't say what kind of events my future will hold, but I know that there will always be new songs, and there will always be determination and soul behind them. I know that when it comes to songwriting, I will always keep digging for something new. I like the idea that if I always strive for freshness, my best song will be the last one I write before my death.
September, 24 2009 08:00 PM - Reggie's Rock Club
2109 S. State St., Chicago, Illinois 60616 - 5
with Parachute Musical and Oblio

October, 8 2009 09:00 PM - Goose Island - Clybourn
1800 N. Clybourn, Chicago, Illinois 60614 -

October, 29 2009 10:00 PM - Cubby Bear - Wrigleyville
1059 W. Addison St., Chicago, Illinois 60613 -
with Color Radio