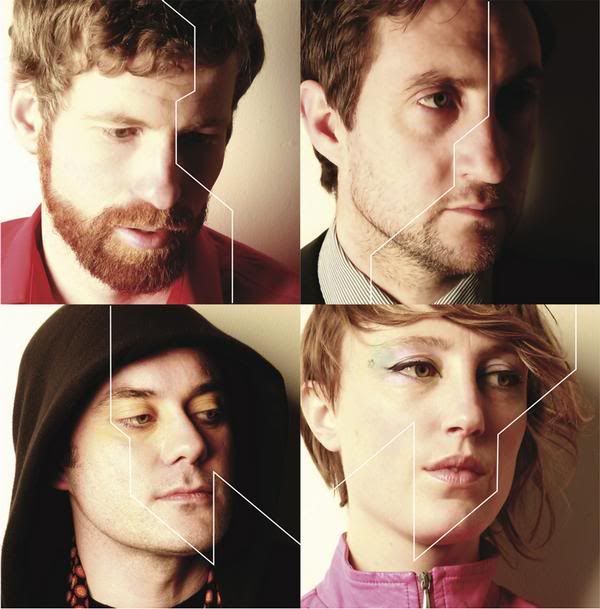 Irish band
Dark Room Notes
has been described as electro/synthpop with a slightly sombre overtone and introverted lyrical sensibility. The band's own Ruairi Ferrie agreed to share a bit about himself and the band with us.

Tell me about how you originally got into your craft.
Ronan (singer) and myself originally started a band many years ago, inspired by the grunge scene of the early 1990s, but quickly grew tired of the limitations of guitar/bass/drums (and possibly of our own musicianship). We started to introduce synths, and the departure of our original bassist and drummer forced us to rely on technology to replicate their sounds. Thus we morphed into an electronic act. We didn't want to become to reliant on pre-programmed material, so we recruited Arran as an extra synth-ist, and Darragh as a live drummer.
How do you describe your music to people?
We make music using computers and guitars and synths and drums and voices. We mostly keep the tempo above 120. We like to make people dance. We like to write pop songs that rock out, and rock songs that pop up, and club anthems that make you cry.
Actually, I usually just say, 'Do you know Depeche Mode? We're kinda like that.' That satisfies most people's curiosity.
What is your favorite thing to do in the whole wide world?
If I could combine writing the material for our second album with sailing up and down rivers, and scaling small hills, that would be my favourite thing. At the moment I'm trying to split my time between these activities.
What is your biggest challenge when it comes to running your business?
Staying afloat. The hardest thing for a band is to convince people that this is what you do for a living, and as much as you enjoy it, it isn't sustainable if you don't get paid. DJs don't seem to have this problem for some reason.
When you were a kid, what did you think you were going to be when you grew up?
I am lucky/foolish enough to have been in effectively the same band since my early teens and, apart from from a early, shortlived flirtation with veterinarianism, music has been the main ambition. Thankfully financial gain has never been at the top of my agenda.
In what way has your community impacted your development as a musician?
My family's involvement in traditional Irish music got me interested in music at an early age, though not trad, something which I now regret. A lot of my friends are more clued into finding new and not so new quality music than I am, and so I've often found myself influenced by a close social group more than any outside forces

What other artists out there do you love?
I'm a big fan of folky, acoustic driven artists such as
James Yorkston
,
Conor Oberst
,
Kris Drever
,
John Martyn
,
and
Bon Iver
.
I'd also include
David Kitt
in that, though he has veered in an electronic direction of late, which sounds great. Other bands that meld guitar-based music with electronic music appeal to me, eg
Whitest Boy Alive
(though they play everything),
M83
etc. Also purely electronic artists like
Trentemøller
,
Pantha du Prince
,
Booka Shade
.
What does your future hold?
Hopefully more of the same - making music that I love, playing it to as many people as possible. Possibly on a boat, with fishing rod in one hand, and a guitar in the other. Right now the future will be trying not to be late arriving at our rehearsal studio. I have to be there in 20 minutes, and as I'm obsessive about punctuality, it'll look very bad if I'm not. Bye.
Check out Dark Room Notes on
Amazon
,
MySpace
, and
Facebook
!