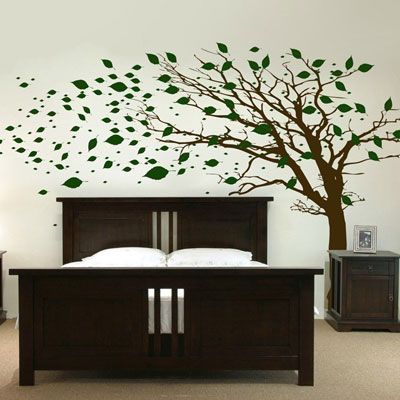 Alicia (that's a-lee-see-a!) and David of
Dali Decals
and
Badass Custom Decals
design and manufacture wall decals of all shapes, sizes and colors that are safe for indoor use or for outdoor application to cars, windows, enclosed trailers, glass or plastic surfaces, and LOTS more. They are currently the 2nd largest wall decal manufacturer on the internet!
Tell me about how you originally got into your craft, Alicia.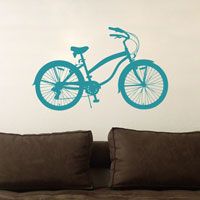 Dave and I first started our decal business as a hobby! We ride sportbikes, and we always had a hard time finding good decals to put on them, so with the help of Dave's design experience and my stubbornness and drive to succeed, we started making our own decals for our bikes, as well as for our friends' bikes! This turned into a bigger deal when people started asking us to design logos and decals for their businesses, bike trailers, storefronts, etc. We were excited that our hobby was actually paying for itself!

With this newfound self-sufficient hobby,
Badass Custom Decals
was born. A friend of mine then approached me and asked if we created wall decals, and we really hadn't even thought about it until she mentioned it. We started experimenting with it and looking into different
designs, materials, and markets and Dave always jokes that all of a sudden, he noticed all of our hallways were lined with our seagrass wall decals! I had been playing around with the designs, and started applying them all over our house. Our wall decals became an instant hit! We started selling on Etsy as
BadassCustomDecals.etsy.com
in early 2008 after about a year
and a half of selling to and experimenting on our friends and family. A few months later in June 2008, we decided we needed a nicer-sounding name, so we came up with
Dali Decals
, which is actually a combination of both of our names, David and Alicia. (awwww!) I was a high school teacher and I actually decided to quit my job over the summer (when we were out of school!) because Dali Decals was growing so fast, there was no way I could've gone back to teaching
and been able to fulfill all of our company's needs. Dave decided to quit his job in marketing and web design a few months later so that we could both put all of our focus and energy into
D
ali Decals. When we first started, he taught me the basics of our primary design software and I ran with it! Now, I am mostly involved in the graphic design and production aspects of Dali Decals, while he spends most of his time making sure we continue to grow, as well as keep Dali Decals running smoothly. We both also devote a lot of time to customer service! We couldn't do what we do without our amazing employees though. They help us with production as well as customer service.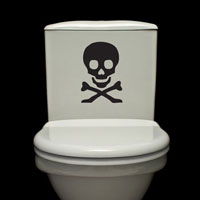 What is your favorite thing to do in the whole wide world?
Well, we really enjoy spending time together and NOT being bored! We have two big dogs, Tex, our 8 year old Siberian Husky, and Sammi, our 2 year old German Shepherd, who are our children! We love to snowboard, we love to ride our sportbikes at the track (like racing!) and we like to mountain bike. We are also avid eaters and sleepers! It may sound like we lead this really exciting life, but really, all we do is work right now. We LOVE to work! That's just what we do.
What is your biggest challenge when it comes to running your business?
We both find it difficult to not work. Sounds crazy, but when the weekend comes around, we really don't know what to do with ourselves! Running the business and living our lives has become the same thing. The business is our life, and our life is the business. Aside from that, we've got most of our business workings all smoothed out, so I can't think of anything else!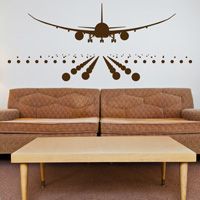 What item in your shop would you most like to receive as a gift if someone were shopping for you?
You know, it may sound so simple, but our
circles and bubbles
are really cool! You can arrange them however you want, and get them in whichever two colors you want! They can be applied in so many different combinations of patterns and colors that they really become your own design.
When you were a kid, what did you think you were going to be when you grew up?
I always thought my Dad and I were going to go into business together! My parents always owned their own business, so naturally, I could never see myself working for anyone else long-term. I always knew I'd work for myself, but never really knew what it was I'd be doing!
When I asked Dave this question, he laughed at me. Five years ago, neither of us ever said to ourselves that we'd be making wall decals and thriving!
What other shops or artists out there do you love?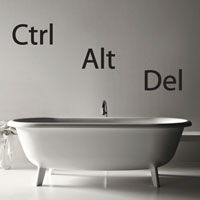 Oh boy!!! Here we go! Here are some of my favorites, as well as artists who are close personal friends of ours!
Page Pottery
Beyond the Rockz
Bloom Studios
Savor Soaps
[see Savor Soaps on Such Cool Stuff! - Ed.]
Ami Nyitray
and my mom!!
DazzleDesigns.etsy.com
What does your future h
old?
Well, if we stay on the path that we're on, we're going to continue to be making lots of wall decals and continue to have LOTS of happy customers! Hopefully Dave and I will be able to find ways to make time for ourselves, but really, we're incredibly happy with what we've built from the ground up! We love what we do and we want to continue to share our great products with people around the world.